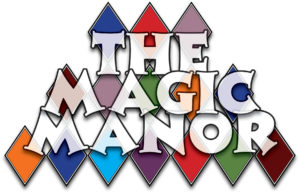 New Hampshire's *only* weekly magic show specially designed for birthdays! Designed and produced by award-winning performer Andrew Pinard, Birthdays in The Magic Manor is a tour-de-force performance that blends classical magic & comedy with interactive play that feature the birthday children as the stars of the show.
Presented in the 80+-seat Hatbox Theatre space in Concord, NH, you and your guests will thrill at how close to the show you get! Over the course of the performance, your children and their guests will thrill at the astounding magic and laugh themselves silly at the amusing antics of Andrew and his cast of characters. Add to that your child's name on a magically printed poster, free goody bags for all your guests and autographs and pictures with the performer(s) after the show, and it all adds up to a unique experience that you will never forget.
Parties run approximately ninety minutes. Performances run 45- to 60-minutes in length with group sizes of up to 15 kids with a maximum total audience size of 60-80 (four parties). The Magic Manor experience begins with a meet & greet, followed by a performance featuring the birthday children. After the performance, groups break out for cupcakes, gifts and photographs.